Sai-Village Tourism Association
1F, 112 Oosai, Sai-Village, Aomori 039-4711
Phone 0175-38-4515
FAX 0175-38-4514
HOME
History of Sai Village
History of Sai Village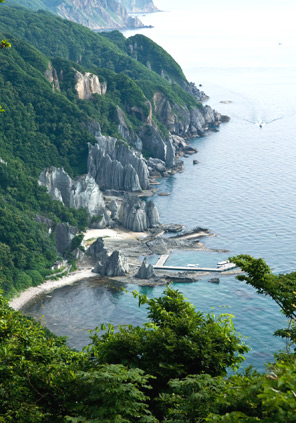 There are 16 archaeological and/or historical subsoil scattered in the south and the north of Sai Village.
As the "Layered Burial Pottery" and "Double-rimmed Pottery" unearthed in the recent excavation of Hachimando Ruins and one of the largest bell-shaped pottery unearthed in the excavation of Nukamori Ruins demonstrate, this area has been nurturing daily life culture since the ancient time of Jomon Era.

In the middle ages, the current Shimokita Region was once called Usori-go, Nukanobu-gun.
In Edo Era, the region was governed by the feudal clan of Nambu Morioka which had the magistrate's office in where is currently called Tanabu, Mutsu.
Ever since the Tokugawa Shogunate has designated Sai as the port to Ezo (now, Hokkaido) in 1803, there was heavy traffic of Kitamae ferries and the village prospered as the home of an excellent port of Shimokita Peninsula to ship seafood and timbers.
On April 1, 1868, the new organization of municipality went into effect, combining the former Sai Village and the former Chogo Village into the current municipality of Sai Village. We have celebrated 100th anniversary of the township in 1988, and 120th in 2009 which leads to now.